"Al-Qaradawi Turns Down Offer to Assume Leadership of the Muslim Brotherhood"
(al-Jazeera, January 12, 2004)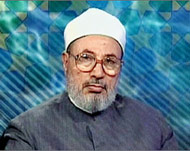 Leading Islamic scholar Shaikh Yusuf al-Qaradawi has ruled out the possibility of assuming the leadership of Egypt's Muslim Brotherhood.
Qatar-based Al-Qaradawi said on Sunday he had consciously decided not to limit his scope of manoeuvre by tying himself "any movement which might constrain my actions, even if this is the Muslim Brotherhood under whose umbrella I grew and which I so defended."
"Would I, at the age of 77, accept what I turned down when I was 49?" the popular cleric, one of those tipped to succeed Brotherhood leader Mamun al-Hudaibi who died earlier this week, said in a statement released here.
His comments came after the Brotherhood confirmed he had been offered the post.
"Sheikh al-Qaradawi is an influential scholar and one of the Muslim Brotherhood's spiritual leaders in the world. Any Muslim Brother would be honoured to have him as supreme guide, but he turned down the offer for the post, citing health and other reasons, as he did in the past," Abu al-Futuh said.
Al-Qaradawi, a lifelong Brotherhood supporter, was jailed three times in Egypt and stripped of his citizenship by President Gamal Abd al- Nasir. He fled to Qatar where he has enjoyed citizenship since the 1970s.
Muhammad Hilal has taken over as interim leader of the movement pending the appointment of a successor to al-Hudaibi, who passed away on Friday.
The Brotherhood is the main opposition force in Egypt, with 16 lawmakers in the 454-seat National Assembly, although because of its officially banned status the MPs did not run under the movement's banner.
---
[Home Page] [Cos'è il CESNUR] [Biblioteca del CESNUR] [Testi e documenti] [Libri] [Convegni]
[Home Page] [About CESNUR] [CESNUR Library] [Texts & Documents] [Book Reviews] [Conferences]