THE 2001 INTERNATIONAL CONFERENCE
The Spiritual Supermarket:
Religious Pluralism in the 21st Century
April 19-22, 2001
at the London School of Economics, Houghton Street, London WC2A 2AE, U.K.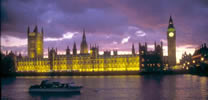 Organised by INFORM (Information Network Focus on Religious Movements) and CESNUR (Center for Studies on New Religions), Italy
in co-operation with ISAR (Institute for the Study of American Religion), USA; RENNER (Research Network on New Religions), Denmark; REMID (Religious Studies Media and Information Service), Germany; FINYAR (Forskning och Information om NYA Religiösa rörelser), Sweden; MMMMM, (Myth, Magic and Miracle Meet Modernity), Norway; ISORECEA (International Association for the Study of Religion in Eastern and Central Europe)
This international conference will be an opportunity for scholars and others from around the world to share their insights about the perceptions, reactions and adaptations of individuals, religions and secular institutions to the growing diversity to be found in many countries. The conference will allow for the discussion, clarification and exchange of information and will be an opportunity for participants to develop wider networks.
The formal proceedings will open on the evening of Thursday, 19th April and will end after lunch on Sunday, 23rd April. Visits to new religious movements and tours of 'spiritual London' will be arranged before and after the main conference sessions. An accommodation list will be circulated to all conference participants.
CALL FOR PAPERS
It is hoped that speakers will come from a broad range of disciplines, including sociology, anthropology, social psychology, history of religion, law, religious studies and theology.
Themes may include:
the emergence of and changes in new religions and new ways of 'doing' religion;
the relationship between new and old religions;
societal responses to religious diversity and pluralism;
religious pluralism and identity formation.
Abstracts of between 100 and 200 words and a short c.v. should be sent in two copies, one to INFORM, Houghton St., London WC2A 2AE, England, Inform@lse.ac.uk, and one to CESNUR, Via Juvarra 20, 10122 Torino, Italy cesnur_to@virgilio.it definitely before December 31st, 2000. Papers must be written and presented in English.
THE 2001 INTERNATIONAL CONFERENCE
The Spiritual Supermarket: Religious Pluralism in the 21st Century
April 19-22, 2001

[Home Page] [Cos'è il CESNUR] [Biblioteca del CESNUR] [Testi e documenti] [Libri] [Convegni]

[Home Page] [About CESNUR] [CESNUR Library] [Texts & Documents] [Book Reviews] [Conferences]